Midnight Sky (2012)


Show Name: CHF Midnight Sky
Barn Name: Skye
Sex: filly
Color: Black Splash Blanket Varnish
Markings: apron blaze with uneven edges, LH coronet, girth spot, spotted blanket
DNA: E_-aa-LPlp-PATN2_-V_-SW_
Gait: +/-
GBED/HYPP/PSSM1/HERDA: -/- (Clear)
CSNB: +/- Carrier
Eyes: blue
Breed: Nez Perce
Registry: CHF Nez Perce (ES)
Registration: N067
Registry: KSMH (Gait: Rack)
Registration: AKM0007-APPROVED
Registry: Appaloosa (ES)
Registration: #145
Owner: Circle F Farms
Breeder: Chapel Hill Farms, 21 May 2012
Sire: CHF Cochise, Bay Blanket Splash Varnish, NzP N0027, Obedient/Quiet/Agile
Dam: CHF Walker's Music, Bay Blanket Splash Varnish, NzP N029, Playful/Agile
Exchange able: no
Status: Active (foal)
Recorded Offspring: 0


CHF Midnight Sky

Black Splash Blanket Varnish

Nez Perce/AKMH/Appy
CHF Cochise
Bay Splash Blanket Varnish
NzP
CHF Walker's Music
wild Bay
Splash Blanket Varnish
NzP
CHF Wind Walker
Black Splash Blanket
QH
CHF Velvet's Cameo
Bay Snowcap Varnish
QH/NzP
Pedigree generated by PedigreeQuery.com
Traits: untrained, agile, obedient
LTR:
Training
Jumping Skill: x/10
Jumps Attempted: x
Poor Jumps: x
Perfect Jumps: x
Racing Skill: x/10
Meters Galloped: x
Hours Training: x
Other:
Skye was purchased under private treaty from CHF with the expectation that she be used to aid the development of the KSMH.
We are very appreciative of the generosity of the team at CHF for affording us the opportunity to own such a fine filly.
Genetic Notes:
Congenital Stationary Night Blindness is a genetic disorder carried on the Leopard Complex gene (LP). All Appaloosa marked horses will be at least carriers for the condition and horses which are homozygous (Fewspot and Snowcap) will be affected. A horse affected by CSNB will be functionally blind in dark areas, such as dim stables and arenas, and at night. Other than the natural risks involved with having a blind horse, CSNB horses bear no other negative health effects from the disorder.
Upon thoroughly researching her pedigree I discovered that a full sibling to Skye's dam was entered to the Appaloosa registry.
I dropped Gem a note regarding what would be involved in supplementing Skye
- very happy to report that Skye was accepted into the registry!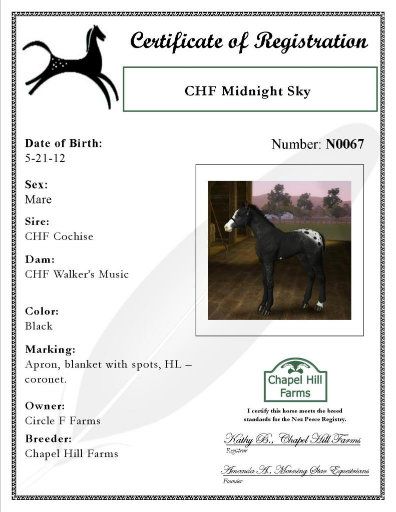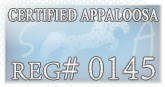 CHF/HEC Walker's Magic by CHF Wind Walker x CHF Velvet's Cameo, Appy papers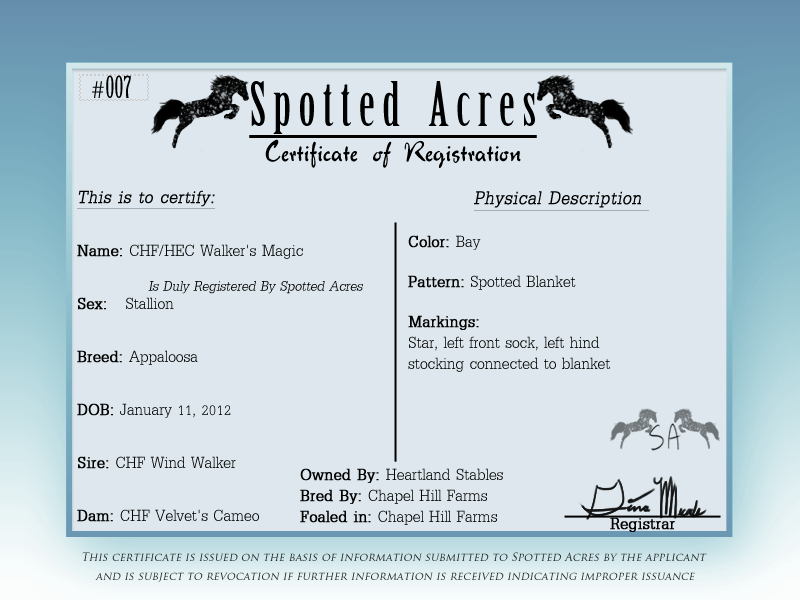 Conformation:
(images courtesy CHF archives)
Community Shows
None at this time
In Game Show Record
Total Competitions Attempted: 0
Jump wins: 0 beginner/0 Advanced/0 International
Race wins: 0 beginner/0 Advanced/0 International
XC wins: 0 beginner/0 Advanced/0 International
Tour The Farm
Main Office (home page)
Back to Mare Shed
KSMH Home