Jazzmeena (2012)


Show Name: PI Jazzmeena
Barn Name: Jazzy
Sex: filly
Color: Dominant White (Bay Splash)
Markings: splash-type blaze, uneven high hind socks, RF unmarked, Bend-Or spots
DNA: Ee-A+_-_f-SW/n-Ww
Gait: -/-
CA/LFS/SCID: -/- (Clear)
Eyes: Dark Grey
Breed: Arabian
Registry: LEC Certified Arabian (ES)
Registration: 00577
Registry: KSMH
Registration: AKM0004 - APPROVED
Registry: SIMquestrians
Registration: Light Breed - #8
Owner: Circle F Farms
Breeder: Parys International, May 2012
Sire: Charismatico, Bay (Splash) Arabian LEC00428; Genius, friendly, fast, decent
Dam: SER She's All That Jazz, flaxen Chestnut (Splash Sabino/DW) Arabian LEC00328; Playful, Brave, Fast
Exchange able: No
Status: Active (foal)
Recorded Offspring: 0


PI Jazzmeena
Dom. White
LEC/AKMH
Charismatico
Bay (Splash)
LEC
SER She's All That Jazz
flaxen Chestnut (Splash Sabino/DW)
LEC
SER's IBN Laheeb
flaxen Chestnut Sabino
LEC
SER Sapphire Dream
flaxen Chestnut (Sabino/DW)
LEC
SER Khasper
Max Sabino (Dom White)
LEC
SER Eleadora
flaxen Chestnut
LEC
Pedigree generated by PedigreeQuery.com
Traits: Brave, Fast, untrained
LTR:
Training
Jumping Skill: x/10
Jumps Attempted: 0
Poor Jumps: 0
Perfect Jumps: 0
Racing Skill: x/10
Meters Galloped: 0
Hours Training: 0
Other:
Very happy to have been selected for this lovely filly!
She was purchased with the intent of improving the horses registered to KSMH though she may be used to develop our own small herd of Arabians as well.
At first glance I though her a classic Splash, then I took a closer look at her pedigree.
She has been submitted for DNA analysis to determine which kit mutation she actually has.
UPDATE: The test is back and Jazzy is a Dominant White! She also harbors Splash.

Conformation:
images courtesy PI archives
Sire Charismatico
Images courtesy LEC
Maternal grandparents SER IBN Laheeb and SER Sapphire Dream
images courtesy SER archives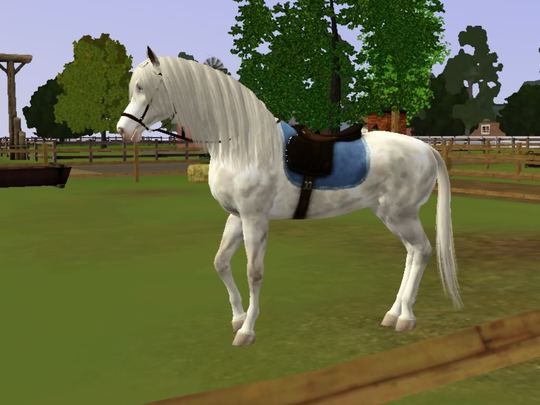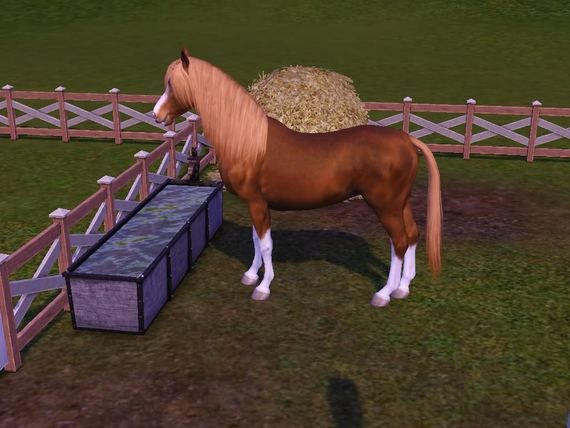 Maternal great-grandparents SER Khasper (source of Arabian DW in ES) and SER Eladora
images courtesy SER archives
Community Shows
None at this time
In Game Show Record
Total Competitions Attempted: 0
Jump wins: 0 beginner/0 Advanced/0 International
Race wins: 0 beginner/0 Advanced/0 International
XC wins: 0 beginner/0 Advanced/0 International
Tour The Farm
Main Office (home page)
Back to Mare Shed
KSMH Home
SIMquestrians (FB)