Silver Elegance (2012)


Show Name: SER Silver Elegance
Barn Name: Ariela
Sex: mare
Color: Grey (Bay, Brown, or Black)
Markings: blaze, snip, hind socks, LF pastern, black points
DNA: E_-_a-Gg
Gait: +/-
CA/LFS/SCID: -/- (Clear)
Eyes: Brown
Breed: Arabian
Registry: LEC Certified Arabian (ES)
Registration: LEC 00341
Registry: KSMH
Registration: AKM0004 - Certified
Registry: Hunter Jumper Club (ES)
Registration: 00141
Registry: SIMquestrians (FB)
Registration: Light Breed-#6
Owner: Circle F Farms
Breeder: Silver Equus Ranch, May 2012
Sire: SER Black Magik, Black, Arabian LEC186, Genius/fast/noisy
Dam: SER/LEC Shatter Point, dapple Grey, Arabian LEC067, Fast/playful/Agile
Exchange able: No
Status: Active (mare)
Recorded Offspring: 0


SER Silver Elegance
Grey
LEC/AKMH
SER Black Magik
Black
LEC
SER Malaka Al Reeh
Black
LEC
SER Neerah
Dark Bay Rabicano
LEC
SER/LEC Shatter Point
Grey
LEC
LEC On The Rocks
Seal Brown
LEC/ESAHA001
SER Flying Change
Grey
LEC
Pedigree generated by PedigreeQuery.com
Traits: Genius, Fast, noisy
LTR:
Training
Jumping Skill: x/10
Jumps Attempted: 0
Poor Jumps: 0
Perfect Jumps: 0
Racing Skill: x/10
Meters Galloped: 0
Hours Training: 0
Other:
Breeder note: First foal to be sired by SER Black Magik, Ariela is a very sweet foal with a lot of potential in racing.
She's the type of filly who is smart enough with a little help from her owner to be a great addition. She's fond of apples and hugs haha. - from SER
Very sorry to hear of the problems at Hidden Acres, but also very happy to have been approved for the purchase of this very lovely mare.
She will be used to help refine our herd and to help further the development of the stock registered to KSMH.
On a whim we had her tested for the DMRT3 mutation and she hit positive! There are a scant few Arabian lines able to perform lateral gaits and it seems that Ariela shares a common ancestor with them. In light of this test her KSMH papers have been upgraded to Certified.
Genetic Notes:
Being a Grey means she has an increased risk of developing melanomas as she ages.
Generally these tumors are benign, though in rare cases malignancy has been known to occur.
The Arabian breed is not one that is commonly purported to gait, however some members have been noted to perform lateral gait type movements both at liberty and with handler/rider; in particular, this tendency seems to occur within a few specific family lines. In the absence of DNA evidence to the contrary it is not unreasonable to suppose that the mutation enabling alternative gaits is present within the Arabian breed. Note that just because the mutation exists within a given horse does not mean that that animal is able to gait; the natural ability must also be nurtured by a responsible handler.
Conformation: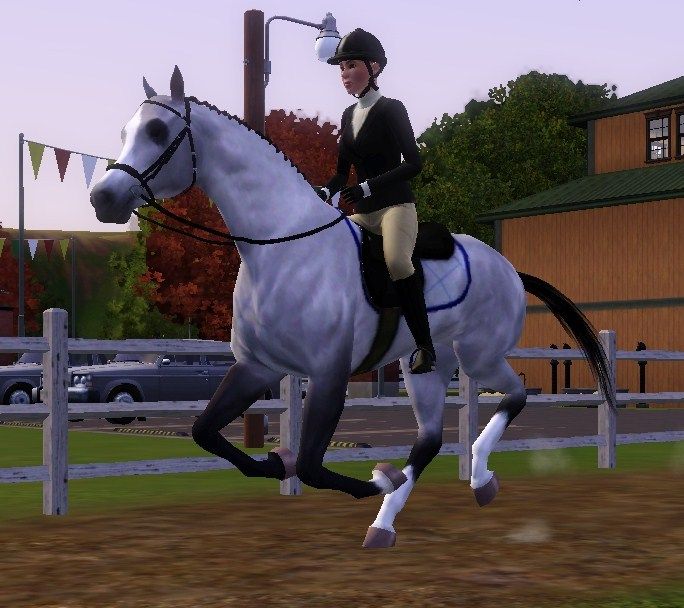 Sire of Dam: LEC On The Rocks
Pic courtesy LEC
paternal grandparents SER Malaka Al Reeh and SER Neerah (with unidentified foal)
Images courtesy SER archives
Community Shows
(ES) June 2012: Hunter/Jumper, Beg Hunter + Non-WB Flat - All Breed, hosted by DBVEC - Did Not Place
(ES) July 2012: HJC Inaugural, Novice Hunter Flat - All Breed, hosted by HJC - Did Not Place
(ES) July 2012: Hunter/Jumper, Beginner Hunter U/S - All Breed, hosted by SRE - Did Not Place
In Game Show Record
Total Competitions Attempted: 0
Jump wins: 0 beginner/0 Advanced/0 International
Race wins: 0 beginner/0 Advanced/0 International
XC wins: 0 beginner/0 Advanced/0 International
Tour The Farm
Main Office (home page)
Back to Mare Shed
KSMH Home
SIMquestrians (FB)